2 Years...Wooohooooo!
H
appy Bloggerversary to me.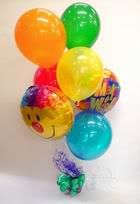 I know many of you have recently celebrated 1st year anniversaries.....such a huge milestone to be so committed to writing. I know we all have our reasons for blogging, mine was basically to force me to write. I have a very very tough time writing, it's not something that comes naturally to me as it does to many of you talented people. Yep sure, i am an academic, what gets me through is my research skills and actual knowledge of what i am asked to write. My writing itself has improved no end from the very beginning of this blog to present day. My blog content however has seen a shift from criminal justice issues, virtually on a daily basis, to a general mix of personal, criminal justice matters, news, photos and those rotten meme's!
I want to thank all of you for commenting on my posts, whether you agree or disagree with what i have to say, i am always happy to listen to your view and appreciative of you for taking time out of your day to be caring enough to comment :)
till next time, Michelle.