Happy Australia Day Australia!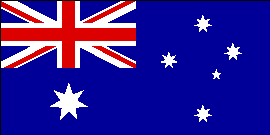 T
oday is Australia's equivilent to America's 4th of July. As Australian's we have a holiday from work to celebrate everything that's Australian. From reef to rainforest, from the outback to the snow fields, there really is no other country on this earth that can boast such different diverse and unique terrain.
So today we'll fire up the barbie, stuff our faces with lamingtons, crack open a fosters and celebrate what we all call "The Lucky Country" :o)
till next time, Michelle.